All Blog Posts »
6.3 Killer Quake Hits Christchurch: New Zealand
Feb 26, 2011
The bad news. Half the city is seriously damaged and grieving.
Central and eastern Christchurch was devastated on Tuesday Feb 22 by a shallow (5km), vicious shake whose epicentre was on the eastern side of the city. It hit at 12.53pm: lunchtime and caught many people at work, at lunch, at school, shopping, or like me at meetings. It was a terrible time to strike.
The Christchurch Business District CBD; the seaside suburbs, the eastern flatland suburbs, the edge of the southern suburbs suffered massive and catastrophic shaking, cracking, falling and liquefaction damage. 145 people are confirmed dead as of today, 200 are missing, 25% of CBD business buildings are destroyed, 150,000 tonnes of liquefied river silt burst up on to the streets, cliffs fell down on houses, buildings collapsed or pancaked, and the city infrastructure of power and water is compromised. I myself was in the CBD when it struck and thank my 30 year old building for standing upright though glass rained down. The worst casualties occurred in 3 buildings that collapsed. One was the iconic Christchurch Cathedral shown below whose central spire collapsed. This is a before and after picture and it is estimated there are 22 bodies still buried in the rubble, many probably tourists. Terrible news.
The good news is that one half of the city dodged the bullet. The northern, and western areas where the airport is located are in much better shape, and some areas show no sigh of the quake. In short:the west is good, the east is in despair. Tourist hunters can 100% guarantee their hunts are on, and may well enter and leave Christchurch without seeing any damage. Those who want to stay in the CBD should think again however. it is cordoned off. This city is truly two cities as of now and the rebuilding, started after the 7.1 September quake has to start again.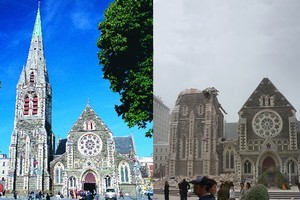 Christchurch Cathedral